JULY 26, 2016
7 things to do for your cat before you travel
Travel can be stressful for both a cat parent and the kitty so we're here to make it easier on the both of you! Below are our 7 tips for making sure the furbaby will be happy and well taken care of while you're enjoying a getaway!
1. Book a Meowtel sitter
People always ask us, "Why do you need a cat sitter? I thought cats were self-sufficient for a few days." As many cat parents know, felines need ongoing love and attention...and many cats require a twice-per-day feeding schedule if their diet consists of wet food! Even though you don't need to take your cat for a walk and their bathroom is located inside the house, cats should never be left alone for more than 24 hours.
So treat your kitty to a staycation by booking a fully-insured and loving Meowtel sitter. You can search for a sitter in your area by clicking here.
2. Make sure you have enough food, water, & litter
Photo:
NEON / Ultra Pet
This may seem straightfoward, but you'd be surprised how many people don't realize they're at the bottom of the litter carton! Want to treat your furbaby (and cat sitter) to a sweet surprise? Let your cat indulge in a NEON litter party!
3. Leave out some dirty laundry
Photo:
Mochimochi Land
We've all been there: you take off your dirty socks or your chlorine-laden swimsuit and your cat just can't get enough! Make the kitty happy and leave out their favorite dirty laundry so they can be reminded of you!
4. Adjust the background noise accordingly
Photo:
VetStreet
Contrary to popular belief, leaving a radio or TV on while you're away could cause additional stress, according to Ingrid King at The Conscious Cat. Determine what would be best for your cat: are you usually home all day with the TV on? If so, then leaving a TV on will probably be soothing for your cat. However, if your cat is used to a quiet home, then keep it that way so they can get their R&R in!
5. Make sure they have their favorite toy
Because nothing is better than knowing your cat is at home doing this for at least an hour each day.
6. Turn on the thermostat
You definitely don't want the furbaby to be in a panic to find some cool air. No matter what time of year it is, always check the forecast and make sure your home is set to a comfortable temperature, which can be anywhere from 75-85 degrees for most felines. Fun fact: cats can tolerate heat much better than most pets as long as there is good air circulation in a room.
7. "Cat-proof" the home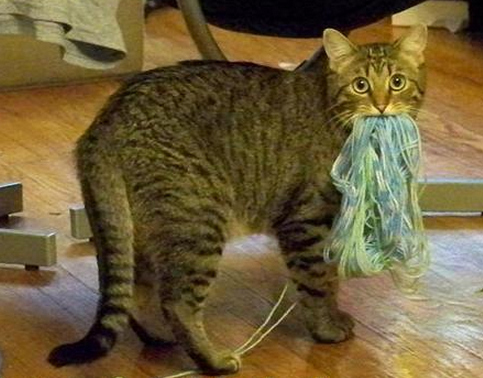 Photo:
Buzzfeed
Last but not least, just as you would child-proof a home, make sure any items that could be potentially dangerous to your curious kitty are safely stowed away! This includes (as pictured): yarn, plastic bags, electrical cords, toxic plants, scissors, knives, human food, and human medications.