MARCH 10, 2016
9 ways to rule your spring break 2016
Spring break is right around the corner and whether you're headed to Cancun with friends or your parent's house for free food, we hope your break is purrfection!
1. Don't be worried about tanlines
Photo:
MelisBuzzFeed
/ Buzzfeed
You've been stuck inside all winter that even if it's only 60 degrees on the beach, you're ready to soak up the sun.
2. Wake up on an unknown sofa...
Photo:
Camila Vallejo
/ Blogspot
...with an epic story. This poor cat had a rough night and will probably have an even rougher morning. Yup, we've all been there.
3. Indulge in some bunny ears
Photo: Unknown
Take the level of hilarity up a notch by buying a matching pair for your feline.
4. Sunday brunch = mimosas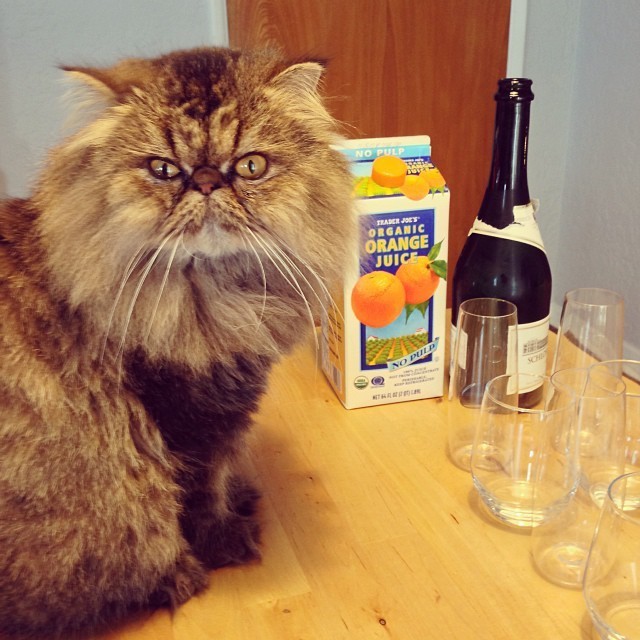 Photo:
@Rancholulu_kitty
/ Instagram
When noon rolls around on Easter Sunday and the champagne hasn't been brought out, then we all feel the same way as this furball.
5. Be dapper [af]
Photo:
@Winston_Quincy
/ Instagram
Get your 'stache groomed and the fresh flowers going to attract the babes!
6. Dance your paws off!
Photo:
@animalyearbookpics
/ Instagram
Because who doesn't enjoy getting nice and sweaty at a crazy disco party?
7. Buy a bottle for every day of spring break
Photo:
@m.molo
/ Instagram
No shame in your game. You deserve a break!
8. DGAF
Photo:
@lkm_yeg
/ Instagram
You may remember that you have work to finish up before spring break is over... buuuuut you don't really care. Pass another croissant, please.
9. Enjoy the moment
Photo:
@sarahinasia
/ Instagram
Live it up. And by living it up, we mean take a ridiculous amount of cat naps.