First on everyone's list in the winter is Honolulu. The weather can't be beat. You might be thinking, "I can't afford that." If you can find an affordable plane ticket, the rest is up to you. Choices for lodging range from luxury expensive all the way to camping. Beaches and hiking are free. If you have a family, with a little planning ahead, there are often cultural type events in the parks that are free or inexpensive such as hula dance lessons or lei making. Whether on the beach or poolside at a hotel, there is always free hawaiian music with hula dancing somewhere. If you want to hop on a plane and explore the outer islands, while adding cost to your trip, it's fairly inexpensive. If surfing is your thing, forgo the expensive hourly board rentals and buy a board off of craigslist and then resell it before you leave. Plan ahead, get creative and go enjoy Honolulu! The aloha spirit doesn't have to be unaffordable.
Bermuda made this list because it's always secretly been on our staff's bucket list. It's also a lot closer for all the east coasters. In addition, November-April have lower rates and fewer tourists. If you plan it right, two hour flights from New York to Bermuda can be found for under $200 round trip. Bermuda is a British Colony that's only about 21 sq. miles. Bermuda has it all: historical sites, museums, golfing, spas, the Royal Naval Dockyard, and beaches. And did we mention, they have pink beaches? What's not to love about that? Pack your bags and get yourself to a pink beach!!
3. Portland, OR
Photo:
Portland Walking Tours
Next destination- Portland Oregon. If you've never been to Portland, you should go! Portland is a quirky city full of friendly people, microbrewers and coffeehouses. Did you know they have their own Macy's Holiday parade downtown? They host tree summits, have scheduled ladybug walks, or be there on Nov 24th for Love Thy Neighbor Day! If you just want to go on a good hike and hot springs soak, drive a couple of hours southeast of Portland to Breitenbush Hot Springs in Detroit OR. Breitenbush Hot Springs is located in a 150+ wildlife sanctuary in the Williamette National Forest. Breitenbush overnight stays include summer camping options, heated cabins or rooms in the historic lodge. Overnight stays require reservations and include 3 vegetarian meals each day. Activities range from hiking, saunas, massage and yoga, just to name a few. Beware- there is no cell phone service and clothing is optional!!
4. San Diego, CA (Meowtel HQ!)
Photo:
Flickr
Of course San Diego has to be on this list as a winter destination! Accommodation choices range from luxurious resorts to camping on the beach in designated campgrounds. In addition to many great eateries, San Diego is considered the craft beer capital of the U.S. Recreation ranges from free to expensive- free beaches, parks, and hiking to many pricey theme parks- Sea World, San Diego Zoo, and Legoland. Daytrips can be made to southern California parks such as Disneyland and Six Flags. When visiting San Diego, one could almost do it all- visit Mexico for a day trip, visit the desert, the beach, visit a casino, a winery, or outlets and malls. We didn't even mention all the famous golf resorts! There are so many things to do in San Diego; one should plan a nice long stay!
5. Namibia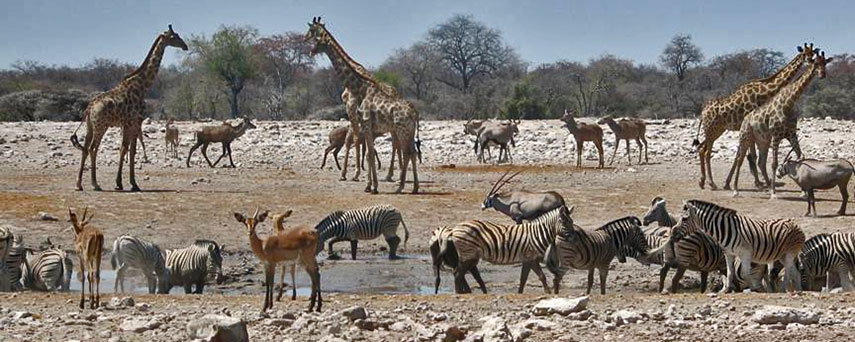 Photo:
Nations Online
If you think all these destinations sound ordinary, the last place on the list should fulfill any desire for the exotic. Namibia is home to the largest but least known game parks. Namibia's western border is the Atlantic Ocean; it borders Zambia and Angola to the north, Botswana to the east, and South Africa to the south and east. Accommodations range from very private and luxurious all-inclusive game reserve hotel resorts to basic hotel rooms that can be reserved for very little. Go be adventurous!