Our Most Popular Cat Sitters in Oakland, CA
Meet your cat sitter before you leave! Every reservation comes with a complimentary Meet & Greet and each Meowtel cat sitter has passed a background check through our trusted partner, Checkr.
Prices start at
$20

for

20

minutes of in-home cat sitting that is backed by the Meowtel Promise, which includes insurance coverage and speedy support.
Find and reserve your 5-Star cat sitter
Experience the magic of our in-home hospitality. Our cat sitters bring the purrfect hospitality to you.
1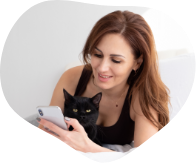 SEARCH AND RESERVE
Search for your cat sitter and reserve drop-in visits or overnight stays.
2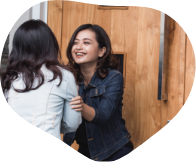 MEET & GREET
The cat sitter will meet
you & the kitties to ensure it's the purrfect match.
3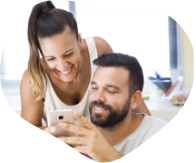 RELAX
You'll receive regular updates, including lots of photos.
Meet the Cat Community in Oakland, CA
Located on the east side of San Francisco Bay, Oakland is known for its stunning views and standout downtown culture. The city boasts a vibrant art and music scene with murals and live music venues everywhere you look. Oakland is the birthplace and home of the Black Panthers and continues to be an epicenter of social justice movements. From art to social progress, Oakland is the place to be if you're looking to push boundaries and make change.
You'll be happy to hear that the cat community in Oakland is just as wonderful as the rest of the city! Let's take a look at what there is to do as a cat-lover in the city, whether you're a resident looking to get involved or just trying to check out the scene while passing through
If you're looking for a variety of activities and opportunities under one roof, look no further than Cat Town! Cat Town opened its doors in 2014 and claimed the title of the nation's very first cat café. This nonprofit aims to "transform the approach to saving shelter cats, reducing euthanasia nationwide." Truly living up to its name, Cat Town is an all-out cat oasis. Grab a Highwire coffee and some vegan snacks from Cat Town's RAWR Coffee Bar and head on in to explore. Approximately half of the shelter's kitties roam free, and those that need some private space are given their own studios. There is a small entry fee for recreational visits, and reservations are encouraged. If you're looking to adopt, you can apply for a free adoption visit to find your purrfect feline companion! Cat Town also hosts events and workshops such as cat yoga, meditation, drawing, and informative classes and workshops.
Looking to adopt, foster, or volunteer? There are plenty of nearby shelters including East Bay SPCA, Island Cat Resources & Adoption, and Marin Humane.
The East Bay SPCA has been committed to animal welfare since 1874. This organization offers pet adoptions as well as many programs to help people and their pets. From veterinary care and animal behavior training to pet food pantries and free wellness clinics, the East Bay SPCA offers a bit of everything.
Island Cat Resources & Adoption's mission focuses on improving the lives of stray and unhoused cats. Island Cat Resources & Adoption provides community assistance to local cat colonies through their Trap-Neuter-Return (TNR) program and resources to empower local residents to make a difference starting in their own backyards. They also offer traditional adoptions as well as a "garden cat" adoption program for those interested in caring for a kitty who prefers to stay outside.
Marin Humane offers adoptions as well as foster and volunteer opportunities. This group runs a variety of community engagement and youth programs to help the community get involved in transforming the lives of animals in need.
Oakland is also home to Feral Change, a nonprofit with an extensive TNR program to help reduce the number of stray kitties roaming the streets. TNR efforts are beneficial for controlling stray cat populations and may help prevent future occurrences of the feral cat invasion of the Oakland Coliseum, home of the Oakland A's. If you would like to get involved, Feral Change provides volunteer opportunities as well as adoptable cats.
Whether you're looking to explore the art scene, cozy up in a cat café, or adopt a new best friend, Oakland has plenty of options! If you're an Oakland resident heading out for vacation and need a trusted sitter to drop in and take care of your cats, Meowtel has you covered with a wonderful selection of local sitters.
Our Purrfect Hospitality Promise :
100%

satisfaction guarantee on your first Meowtel reservation
Frequently Asked Questions
The average daily price for a cat sitter in Oakland, CA as of October 2023 is $42.00
At Meowtel, we specialize in in-home cat sitting, because kitties hate leaving the comforts of home! Our trusted cat sitters offer 20 minute, 45 minute, 60 minute drop-in visits as well as overnight stays in your home. You may choose flexible visitation schedules such as daily or alternating days.
To start your search for the perfect cat sitter on Meowtel, simply input your zip code and the dates when you need your sitter to visit your cats. The search results will show all of the thoroughly vetted and insured cat sitters who are available to assist. Select the sitter that looks best to you and then book and pay via Meowtel. Every reservation comes with a free Meet & Greet so you can meet your cat sitter before you leave.
Each Meowtel cat sitting visit will include the whole 9 yards: feeding, refreshing the water bowls, litter box scooping, tidying up, medications, updates with photos, lots of playtime, as well as any special requests you may have. We know every kitty is different and that's why we offer tailored, in-home services since cats don't do well outside their own homes. Plus, every reservation comes with a free Meet & Greet so you can meet your sitter before you leave to ensure it will be a purrfect fit.