Our Most Popular Cat Sitters in Boston, MA
Meet your cat sitter before you leave! Every reservation comes with a complimentary Meet & Greet and each Meowtel cat sitter has passed a background check through our trusted partner, Checkr.
Prices start at
$20

for

20

minutes of in-home cat sitting that is backed by the Meowtel Promise, which includes insurance coverage and speedy support.
Find and reserve your 5-Star cat sitter
Experience the magic of our in-home hospitality. Our cat sitters bring the purrfect hospitality to you.
1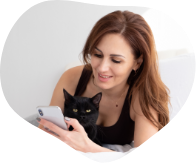 SEARCH AND RESERVE
Search for your cat sitter and reserve drop-in visits or overnight stays.
2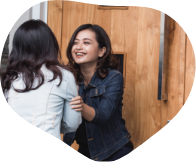 MEET & GREET
The cat sitter will meet
you & the kitties to ensure it's the purrfect match.
3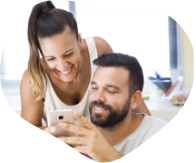 RELAX
You'll receive regular updates, including lots of photos.
Meet the Cat Community in Boston, MA
Boston, Massachusetts is a city of massive historical significance for the U.S. The city was founded by English Puritans all the way back in 1630. In addition to making history with events like the Boston Tea Party and the founding of Harvard, the first American university, Boston is a groundbreaking city for the cat community. Let's jump in and take a look at all that the Boston area has to offer for local cat lovers and visitors.
The Animal Rescue League (ARL) of Boston has been serving the local animal community for over 120 years. ARL has a community cat program aimed to help the approximate 700,000 unhoused "community cats" in the state of Massachusetts. ARL Rescue Agents provide a Trap-Neuter-Release (TNR) program, assist feral and outdoor cats in need of medical attention, and assess cats for sociability and adoption potential. Cats are then either returned to their colony or put up for adoption in ARL's shelter. The organization was able to help over 20,000 animals in 2022. ARL has their sights set on a future in which "animals are safe and healthy in the communities in which they live."
Gifford Cat Shelter became the first free-roam, no-kill shelter in the country in 1884. Since then, the shelter has striven to provide a safe environment for stray, abused, and unwanted cats while they wait for their furever homes. The shelter also opened the Gifford Cat Food Pantry in 2020 to provide supplies to cat owners who are in need of supplies. Gifford Cat Shelter has foster and volunteer opportunities in addition to adoptable cats.
The MSPCA Animal Care and Adoption Center is the second-oldest human society in the country, founded in 1868. They are an independently-operated nonprofit organization aiming to relieve suffering and prevent cruelty. In addition to adoptable pets, the MSPCA provides medical services, animal training, spay and neuter services, and various community outreach programs.
Interested in checking out a live kitten cam? Check out The Cat Connection! This volunteer-run organization rescues stray and abandoned cats and helps them get adopted, supports the local cat community through veterinary care and behavior training services, and helps control the feral cat community through an extensive Trap-Neuter-Release (TNR) program. You can apply to adopt, foster, or volunteer with The Cat Connection.
Sweet Paws Rescue is a shelterless, volunteer-powered organization that operates in Massachusetts as well as parts of Alabama and Mississippi. This group has a broad network of foster homes and a selection of adoptable cats.
Boston's first cat café, A Sanctuary Cafe, is expected to open this spring. The café will be a combination coffee shop and bookstore, with locally-sourced drinks, baked goods, books for purchase, and resident cats. Keep your eyes peeled for updates!
If you're traveling to Boston to visit some historical sights or to scope out the local cat community, we recommend that you leave your feline companions at home with a Meowtel sitter. However, in situations where leaving your cat at home isn't possible, you and your kitty have plenty of accommodations options in Boston! There is certainly no shortage of cat-friendly hotels and rentals in Boston. Some of the premier pet-friendly hotels in Boston include The Colonnade Hotel, Element Boston Seaport District, Fairmont Copley Plaza, The Eliot Hotel, Boston Harbor Hotel, Revere Hotel Boston Common, Hotel AKA Boston Common, Battery Wharf Hotel Boston Waterfront, and Hilton Boston Logan Airport. (Please note that hotel pet policies are subject to change, and this is not an extensive list of cat-friendly options in Boston).
If you're a Boston resident looking to get out of town for a bit, Meowtel has you covered! Our community of trusted and insured in-home cat sitters are here to provide purrfect care to your feline friends.
Our Purrfect Hospitality Promise :
100%

satisfaction guarantee on your first Meowtel reservation
Frequently Asked Questions
The average daily price for a cat sitter in Boston, MA as of September 2023 is $31.00
At Meowtel, we specialize in in-home cat sitting, because kitties hate leaving the comforts of home! Our trusted cat sitters offer 20 minute, 45 minute, 60 minute drop-in visits as well as overnight stays in your home. You may choose flexible visitation schedules such as daily or alternating days.
To start your search for the perfect cat sitter on Meowtel, simply input your zip code and the dates when you need your sitter to visit your cats. The search results will show all of the thoroughly vetted and insured cat sitters who are available to assist. Select the sitter that looks best to you and then book and pay via Meowtel. Every reservation comes with a free Meet & Greet so you can meet your cat sitter before you leave.
Each Meowtel cat sitting visit will include the whole 9 yards: feeding, refreshing the water bowls, litter box scooping, tidying up, medications, updates with photos, lots of playtime, as well as any special requests you may have. We know every kitty is different and that's why we offer tailored, in-home services since cats don't do well outside their own homes. Plus, every reservation comes with a free Meet & Greet so you can meet your sitter before you leave to ensure it will be a purrfect fit.