Our Most Popular Cat Sitters in Austin, TX
Meet your cat sitter before you leave! Every reservation comes with a complimentary Meet & Greet and each Meowtel cat sitter has passed a background check through our trusted partner, Checkr.
Prices start at
$20

for

20

minutes of in-home cat sitting that is backed by the Meowtel Promise, which includes insurance coverage and speedy support.
Find and reserve your 5-Star cat sitter
Experience the magic of our in-home hospitality. Our cat sitters bring the purrfect hospitality to you.
1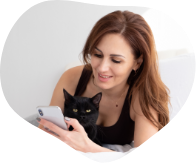 SEARCH AND RESERVE
Search for your cat sitter and reserve drop-in visits or overnight stays.
2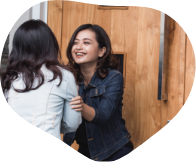 MEET & GREET
The cat sitter will meet
you & the kitties to ensure it's the purrfect match.
3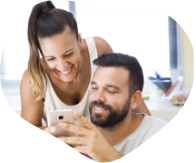 RELAX
You'll receive regular updates, including lots of photos.
Meet the Cat Community in Austin, TX
Let's talk about Austin, Texas. Both the capital of Texas and the "Live Music Capital of the World," this city has earned its unofficial motto of "Keep Austin Weird." Austin is a hub of culture and creativity - home to The University of Texas, a booming music scene, plentiful food options, and an abundance of outdoor activities. With a burgeoning population, there is never a shortage of like-minded kitty lovers around!
Austin has a large festival scene, known for annual events like South by Southwest (SXSW) and Austin City Limits (ACL). Every once in a while, a kitty-centric event works its way into the mix. POP Cats is an annual occurrence that first made its way to Austin in 2018 and claimed the title of the city's first cat convention. POP Cats is a cat-focused festival, where cat related pop and art are celebrated. There are also live adoptions at the event, and attendees are even invited to bring their own cats along! The organization that puts on this festival donates a portion of their proceeds to animal non-profits organizations that participate in the event, so you can feel good knowing that your ticket purchase directly promotes feline welfare.
The Austin Humane Society (AHS), the longest-standing no-kill, non-profit pet adoption center in Austin, also hosts an annual Kitten Shower event. The event celebrates and brings awareness to "kitten season," which takes place from spring to summer. AHS partners with local businesses and cat groups to bring this interactive celebration to life. This family-friendly event is free to attend. You can also make a donation to participate in activities such as cat yoga, bake-off tasting, and more.
If festivals and events aren't your thing, there are plenty of other ways to have fun around town. Austin prides itself on being a very pet-friendly city, with outdoor spaces and patios where pets are welcome. Is your cat good on a leash? Do you like to give your cat fresh air in a stroller?
Enjoy the view of downtown with a nice picnic or playdate with your cat at Zilker Park. This is an animal-friendly park, one of the largest in Austin, with city views and plenty of wide-open space. Attend a cat-lovers meetup here or plan your own! Please be mindful of other pets in the area as Zilker is a popular off-leash dog area. Whether your cat is with you or peacefully snoozing at home, Zilker is a great gathering spot for any occasion.
If your kitty friend is very comfortable walking on a leash or enjoys a stroller ride, consider walking them down the boardwalk. It is an all-pets-welcome boardwalk with beautiful views of Lady Bird Lake. There are some bikers and other pet-walkers, but there is plenty of territory for you and your furry friend to get some exercise and take in the great outdoors.
If you want to do all these fun cat-related activities but don't have a cat yet, fear not! There are plenty of adoption and volunteer opportunities in Austin as well. Austin Pets Alive! (APA!) is a no-kill shelter that adopted out over 10,000 pets in 2022. You can view the cats they have available for adoption online or in their facility, enjoy a meet and greet with them, and fill out the paperwork that same day; many of their kitties even have waived adoption fees. With opportunities to volunteer, foster, and adopt, there's something for everyone! You can even donate to the cause by shopping at one of the APA! thrift stores.
If you're looking to adopt a young kitten, Austin's Pets Alive! has a renowned neonatal kitten facility. Nicknamed the Bottle Baby Program, the neonatal facility takes in homeless kittens and kittens from surrounding shelters that have become overrun during "kitten season." This program has directly saved over 20,000 kittens since it was founded in 2009! The facility is run by staff, fosters, and volunteers. These kittens need a lot of time and attention, but volunteering or fostering with the program can be extremely rewarding.
Looking to adopt a specific breed? Austin has its own specific organization for Siamese (and related) cats! The Austin Siamese Rescue is committed to providing care and re-homing abused, neglected, or abandoned Siamese cats (and 13 other breeds of the Royal Thai Family!) in the Austin area. Siamese cats are friendly and active, and they're also known to be pretty talkative. They can make for the perfect feline companion, and these adventurous kitties also might enjoy some of the outdoor activities listed above. The Austin Siamese Rescue occasionally holds events in the area, and they have multiple cats up for adoption at any given time. You can help them out by donating, volunteering to foster these cats, or adopting one yourself.
Like most cities, Austin is home to a population of community cats. Luckily, Austin has organizations in place that aim to help these community cats by providing basic care and health services to them. Shadow Cats is one such organization that aims to provide care to community cats in the Austin area. They have a Trap-Neuter-Return (TNR) program for keeping track of cats they have neutered or spayed in the area. Additionally, Shadow Cats provides long-term care for special needs cats in their own sanctuary, and they provide educational materials to the community about stray or feral cats. They have volunteer and sponsor-a-cat opportunities as well.
If you're short on time or don't have the resources to foster or adopt at the moment, you can always swing by Purrfecto Cat Lounge to get your fix of caffeine AND visit kitties from local rescues. This cat café opened in 2022 and offers one-time reservations as well as membership opportunities. If you fall in love with a kitty during your visit, you can apply to take it home with you. The café has adopted out 180 kitties in the short time they've been open.
If you're traveling to Austin for an event like POP Cats or just looking to take a vacation in this vibrant city, we recommend that you leave your feline companions at home with a Meowtel sitter. However, in situations where leaving your cat at home isn't possible, you and your kitty have plenty of accommodations options in Austin! Some of the premier cat-friendly hotels in Austin include the Hotel Van Zandt, La Quinta Inn & Suites by Wyndham Austin Airport, the Four Seasons Hotel Austin, The LINE Austin, Wyndham Garden Inn Austin, Renaissance Austin Hotel, and Sleep Inn & Suites Austin. (Please note that hotel pet policies are subject to change, and this is not an extensive list of cat-friendly options in Austin).
If you're a cat owner living in Austin, Texas, we encourage you to get involved in local cat-related events and opportunities! And remember, if you're ever in need of a top-quality sitter, Meowtel has a selection of highly rated cat sitters located throughout Austin that will provide world-class care and give you peace of mind while you're away. Stay weird, Austin!
Our Purrfect Hospitality Promise :
100%

satisfaction guarantee on your first Meowtel reservation
Frequently Asked Questions
The average daily price for a cat sitter in Austin, TX as of September 2023 is $28.00
At Meowtel, we specialize in in-home cat sitting, because kitties hate leaving the comforts of home! Our trusted cat sitters offer 20 minute, 45 minute, 60 minute drop-in visits as well as overnight stays in your home. You may choose flexible visitation schedules such as daily or alternating days.
To start your search for the perfect cat sitter on Meowtel, simply input your zip code and the dates when you need your sitter to visit your cats. The search results will show all of the thoroughly vetted and insured cat sitters who are available to assist. Select the sitter that looks best to you and then book and pay via Meowtel. Every reservation comes with a free Meet & Greet so you can meet your cat sitter before you leave.
Each Meowtel cat sitting visit will include the whole 9 yards: feeding, refreshing the water bowls, litter box scooping, tidying up, medications, updates with photos, lots of playtime, as well as any special requests you may have. We know every kitty is different and that's why we offer tailored, in-home services since cats don't do well outside their own homes. Plus, every reservation comes with a free Meet & Greet so you can meet your sitter before you leave to ensure it will be a purrfect fit.