Our Most Popular Cat Sitters in Seattle, WA
Meet your cat sitter before you leave! Every reservation comes with a complimentary Meet & Greet and each Meowtel cat sitter has passed a background check through our trusted partner, Checkr.
Prices start at
$20

for

20

minutes of in-home cat sitting that is backed by the Meowtel Promise, which includes insurance coverage and speedy support.
Find and reserve your 5-Star cat sitter
Experience the magic of our in-home hospitality. Our cat sitters bring the purrfect hospitality to you.
1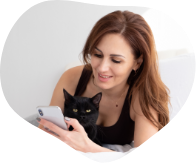 SEARCH AND RESERVE
Search for your cat sitter and reserve drop-in visits or overnight stays.
2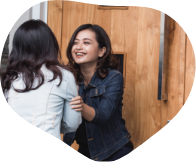 MEET & GREET
The cat sitter will meet
you & the kitties to ensure it's the purrfect match.
3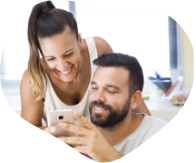 RELAX
You'll receive regular updates, including lots of photos.
Meet the Cat Community in Seattle, WA
Seattle is a beautiful coastal city in the Pacific Northwest. The "Emerald City" is full of lush green landscapes and plentiful evergreens. Seattle is also affectionately called the "Coffee Capital of the World" and is known for its prominent coffee culture, dating back all the way to 1895. The birthplace of Starbucks is also home to Fortune 500 companies such as Amazon, Microsoft, Alaska Airlines, and Nordstrom. With the amazing landscape, large population, career opportunities, and reasonable seasonal weather (even if it is a little rainy), it's no secret that Seattle is the home to a lot of fun and interesting people - cat lovers included!
In a city known for its sleepy cafés, it should come as no surprise that there are two wonderful cat cafés in Seattle! With these impressive cat-stablishments, Seattle truly sets itself apart as a cat-loving city. Visiting a cat café is a purrfect way to spend a free day, and you could even meet fellow cat lovers that frequent the café as well!
Grab a friend and head on over to Seattle Meowtropolitan if you're looking for a chill vibe. They serve high quality local coffee as well as pastries and baked goods in case you're looking for a bite to eat. While nine of the cats you'll see are permanent residents of the café, the rest are fully-adoptable fosters from the Regional Animal Services of King County. If you find one you like and are interested in adoption, there's a cat lounge where you can go and spend some personal time getting to know them. The café also has baked goods that take on the form of some of the cats in the café (cat-shaped cookies, cupcakes decorated to look like cats, etc. so you can enjoy a nice and relaxing morning or afternoon sipping on some coffee, playing with some cute, adorable cats and having a delicious bite to eat. Seattle Meowtropolitan also hosts events like Meowga (yoga with cats) and pumpkin carving - just be sure to grab a ticket beforehand in order to guarantee your spot.
If you're looking for an evening outing, you'll definitely want to check out NEKO: A Cat Café. Cozily nestled into downtown Seattle with calming décor and lighting, Neko is the perfect spot for cat lovers to hang out after the sun goes down (though they are open earlier in the day as well). NEKO has adoptable cats in the shop that you can hang out with, either in the main cat room or in a private room with up to 10 of your fellow cat-loving friends. NEKO stands out from other cat cafés because they stay open late and serve beer and wine. This is a great spot for an evening in Seattle, or maybe a date night with a fellow cat lover.
Looking to adopt, foster, or volunteer at a local rescue? Seattle has plenty. Some nearby options include the Seattle Area Feline Rescue, Seattle Humane, MEOW Cat Rescue, and PAWS (Progressive Animal Welfare Society).
If you and your cat are nature lovers, you're in luck! Seattle boasts pet-friendly parks and nature trails galore. If your cat is experienced and likes to walk on a leash (or enjoys being pushed in a stroller) and enjoy all the sights and smells nature has to offer, you'll want to check out Golden Gardens Park. This park really has it all - wetlands, beaches, hiking trails and more! Stroll with your cat through the trails, get some fresh sea-filled air down by the beach, or host your own cat meetup at the picnic table area.
Planning a trip to Seattle? We recommend that you leave your feline companions in the comfort of their home with a Meowtel sitter. However, in situations where leaving your cat at home isn't possible, you and your kitty have plenty of accommodations options! There is certainly no shortage of cat-friendly hotels and rentals in Seattle. Some of the premier pet-friendly hotels in Seattle include the Kimpton Hotel Monaco Seattle, La Quinta Inn & Suites by Wyndham Seattle Downtown, The Edgewater Hotel Seattle, Hotel Max, the Kimpton Palladian Hotel, and The Alexis Royal Sonesta Hotel Seattle. (Please note that hotel pet policies are subject to change, and this is not an extensive list of cat-friendly options in Seattle).
Whether you find yourself in Seattle for a day or a lifetime, you're sure to be pleased with the cat community! We hope you enjoy all the cat-tastic opportunities to get out and about in this fabulous city. Remember - if you're ever in need of a vacation away, Meowtel has you covered with our wonderful selection of sitters in Seattle.
Our Purrfect Hospitality Promise :
100%

satisfaction guarantee on your first Meowtel reservation
Frequently Asked Questions
The average daily price for a cat sitter in Seattle, WA as of October 2023 is $30.00
At Meowtel, we specialize in in-home cat sitting, because kitties hate leaving the comforts of home! Our trusted cat sitters offer 20 minute, 45 minute, 60 minute drop-in visits as well as overnight stays in your home. You may choose flexible visitation schedules such as daily or alternating days.
To start your search for the perfect cat sitter on Meowtel, simply input your zip code and the dates when you need your sitter to visit your cats. The search results will show all of the thoroughly vetted and insured cat sitters who are available to assist. Select the sitter that looks best to you and then book and pay via Meowtel. Every reservation comes with a free Meet & Greet so you can meet your cat sitter before you leave.
Each Meowtel cat sitting visit will include the whole 9 yards: feeding, refreshing the water bowls, litter box scooping, tidying up, medications, updates with photos, lots of playtime, as well as any special requests you may have. We know every kitty is different and that's why we offer tailored, in-home services since cats don't do well outside their own homes. Plus, every reservation comes with a free Meet & Greet so you can meet your sitter before you leave to ensure it will be a purrfect fit.