Our Most Popular Cat Sitters in Portland, OR
Meet your cat sitter before you leave! Every reservation comes with a complimentary Meet & Greet and each Meowtel cat sitter has passed a background check through our trusted partner, Checkr.
Prices start at
$20

for

20

minutes of in-home cat sitting that is backed by the Meowtel Promise, which includes insurance coverage and speedy support.
Find and reserve your 5-Star cat sitter
Experience the magic of our in-home hospitality. Our cat sitters bring the purrfect hospitality to you.
1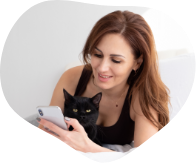 SEARCH AND RESERVE
Search for your cat sitter and reserve drop-in visits or overnight stays.
2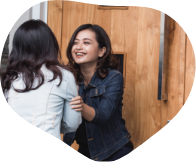 MEET & GREET
The cat sitter will meet
you & the kitties to ensure it's the purrfect match.
3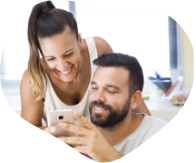 RELAX
You'll receive regular updates, including lots of photos.
Meet the Cat Community in Portland, OR
Portland, Oregon (PDX) is often touted as the hipster capital of the nation. With an incredible variety of trendy places to see, visit, explore, eat, and drink, there's no shortage of activities for residents and visitors alike. If you're looking to get involved in the cat scene, the city is ripe with cat-themed activities and adoption opportunities. Let's take a deep dive into everything cat-related in Portland!
If you're hoping to volunteer, foster, or adopt, there are plenty of shelters and rescues nearby. The Pixie Project is a non-profit animal rescue. Here you can adopt kitties and other animals, many of which have been rescued from over-crowded local shelters. The Pixie Project offers education and support for pet parents who need a little guidance. They also provide low-cost veterinary and spaying/neutering services for homeless or low-income pet owners. They accept donations and volunteers, so it's a wonderful place to visit and spend some time while you're in the Portland area.
The Animal Care & Rescue Fund is a Portland-based animal rescue founded in 1974 that takes in homeless, sick, neglected, and injured cats and finds them loving homes. These cats are rehabilitated and placed up for adoption so they can have a second chance at life. The program is run on donations and by volunteers. You can help by adopting a cat, promoting one of their pets, donating, or volunteering your time.
Animal Aid PDX is a non-profit no-kill shelter and rescue that helps find loving forever homes for homeless cats. Their cat shelter is free-roam, allowing the kitties to run, pounce, and play outside of cages. They accept volunteers and visitors to their cat shelter room and offer fun events like cat yoga! If you adopt from Animal Aid, they offer lifetime support, guidance, and education for all cat parents if they need it.
The largest rescue in Portland, the Oregon Humane Society (OHS), is the fourth oldest humane society in the United States, dating back to 1868. The OHS places more than 11,000 animals every single year. The Oregon Humane Society is a no-kill shelter and stands by its no time limit philosophy, meaning that no time limit exists on any animal staying with them. Their services include student education programs, spay and neuter services, end-of-life services, lost and found, urgent animal rescue, and adoption services.
The Cat Adoption Team (CAT) of Sherwood, Oregon, is just a twenty-minute drive outside Portland. Boasting twenty years of operation with over 50,000 adoptions, it has been a powerhouse in cat rescue. CAT's staff and volunteers work incredibly hard to save every cat they can, whether homeless, injured, sick, neglected, or surrendered. As well as adoption services, they have a foster program for people interested in temporarily housing cats and kittens until they can find a forever home.
An attachment to its shelter, the CAT Thrift Store is an appendage of the Cat Adoption Team where they sell second-hand clothing, home goods, and treasures of all kinds. All of the proceeds go to supporting the cats in the shelter. Here you can donate your gently used clothing and items so that the team can sell them and continue to keep the in-need cats they care for. Every purchase you make goes directly toward helping these kitties!
If you're traveling to Portland to soak up the hipster culture, we recommend that you leave your feline companions at home with a Meowtel sitter. However, in situations where leaving your cat at home isn't possible, you and your kitty have plenty of accommodations options in PDX! Some of the premier pet-friendly hotels in Portland include the Kimpton RiverPlace Hotel, River's Edge Hotel, Oxford Suites Portland - Jantzen Beach, the Kimpton Hotel Vintage Portland, Residence Inn Portland North, and La Quinta Inn & Suites by Wyndham Portland Airport. (Please note that hotel pet policies are subject to change, and this is not an extensive list of cat-friendly options in Portland).
Portland is an exciting place for any traveler - especially those who love cats! Whether you want to take your kitty with you or visit some cat-centered places, Portland is a cat-loving hipster's dream. If you're a Portland resident looking to get away for a bit, Meowtel has you covered with a selection of meowvelous in-home sitters to look after your best friend while you're gone.
Our Purrfect Hospitality Promise :
100%

satisfaction guarantee on your first Meowtel reservation
Frequently Asked Questions
The average daily price for a cat sitter in Portland, OR as of October 2023 is $30.00
At Meowtel, we specialize in in-home cat sitting, because kitties hate leaving the comforts of home! Our trusted cat sitters offer 20 minute, 45 minute, 60 minute drop-in visits as well as overnight stays in your home. You may choose flexible visitation schedules such as daily or alternating days.
To start your search for the perfect cat sitter on Meowtel, simply input your zip code and the dates when you need your sitter to visit your cats. The search results will show all of the thoroughly vetted and insured cat sitters who are available to assist. Select the sitter that looks best to you and then book and pay via Meowtel. Every reservation comes with a free Meet & Greet so you can meet your cat sitter before you leave.
Each Meowtel cat sitting visit will include the whole 9 yards: feeding, refreshing the water bowls, litter box scooping, tidying up, medications, updates with photos, lots of playtime, as well as any special requests you may have. We know every kitty is different and that's why we offer tailored, in-home services since cats don't do well outside their own homes. Plus, every reservation comes with a free Meet & Greet so you can meet your sitter before you leave to ensure it will be a purrfect fit.