Our Most Popular Cat Sitters in San Diego, CA
Meet your cat sitter before you leave! Every reservation comes with a complimentary Meet & Greet and each Meowtel cat sitter has passed a background check through our trusted partner, Checkr.
Prices start at
$20

for

20

minutes of in-home cat sitting that is backed by the Meowtel Promise, which includes insurance coverage and speedy support.
Find and reserve your 5-Star cat sitter
Experience the magic of our in-home hospitality. Our cat sitters bring the purrfect hospitality to you.
1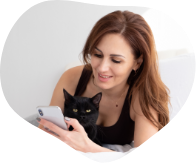 SEARCH AND RESERVE
Search for your cat sitter and reserve drop-in visits or overnight stays.
2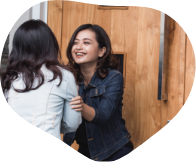 MEET & GREET
The cat sitter will meet
you & the kitties to ensure it's the purrfect match.
3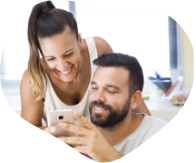 RELAX
You'll receive regular updates, including lots of photos.
Meet the Cat Community in San Diego, CA
San Diego is a beautiful coastal town in southern California. With warm beaches, boardwalks, and sunny skies, it's a traveler's dream. But what is there to do for the cat enthusiasts of the world? Can you travel to San Diego with your little fur baby in tow? This wonderful town has plenty for fur-baby-loving travelers to do, so let's set sail and explore what San Diego has to offer!
San Diego County is home to numerous cat shelters and rescues. The National Cat Protection Society (or NatCat) has its home base in San Diego. It was founded in 1968 by career humane officer Mr. C. Richard Calore, a World War II veteran. While serving in France, he was hiding deep in a cold, wet trench when he encountered a cat that was hiding out there. The two became companions and kept each other warm during the cold nights, leaving a profound and lifelong effect on him. Inspired by this encounter, he dedicated the rest of his life to creating the National Cat Protection Society so he could continue to care for and rehome lost and wayward cats. This no-kill organization helps rehabilitate in-need cats until they find their fur-ever homes. NatCat relies on donations and volunteers, so if you're in San Diego, you can stop by and see what you can do to help these sheltered kitties!
While visiting, you can also find other shelters in San Diego County, such as the San Diego Humane Society, where you can adopt cats, receive veterinary care, get spay and neuter services, or watch the live Kitten Cam that's always watching their Kitten Nursery. PAWS of Coronado is another shelter in San Diego County where you can adopt kitties or volunteer to help rescued cats find homes.
If you're in the area and have a veterinary emergency, La Costa Animal Hospital is nearby to provide the care you need!
San Diego is also home to a few cat cafés, where you can lounge and visit with adoptable cats in a cozy, living-room-like setting. The Cat Lounge Rescue and Adoption Center is a no-kill and non-profit organization that rescues cats from local euthanasia lists, rehabilitates them, and shelters them in a lounge where you and your friends and family can visit them and potentially bring a furry friend home. Since June 2019, they have helped 4,700 cats find their fur-ever homes! No reservation is required if you want to stroll in on your own. They are also open for booking events with up to 30 guests, so it's the ideal place to have a birthday party, family reunion, special occasion, or any get-together!
At Southern California's first cat café, aptly named The Cat Café, you can make a reservation to visit and play with cats while sipping on a cappuccino or latte. If you want to get a little more active, you can also opt for their Cats on Mats Yoga Class, where you can reach your inner zen next to kitties! Doesn't that sound like a dream? Like most cat cafés, any of the kitties you visit during your time there are available for adoption. You always need to find out what kind of connection you'll make!
Cat and Craft is a full-service coffee bar and adoptable cat lounge. The owners felt that traditional shelters where cats are kept in cages didn't showcase the cats' personalities and loved the idea of letting the kitties roam free, where they can pounce, purr, and play with each other and visit humans. Here, you can lounge with a coffee and kitties, or you can even attend one of their movie nights in the cat lounge.
POP Cats has been making a stop in San Diego annually since 2022. POP Cats is a cat-focused festival, where cat related pop and art are celebrated. There are also live adoptions at the event, and attendees are even invited to bring their own cats along! The organization that puts on this festival donates a portion of their proceeds to animal non-profits organizations that participate in the event, so you can feel good knowing that your ticket purchase directly promotes feline welfare.
If you're traveling to Chicago for an event like POP Cats or just looking to soak up the sun, we recommend that you leave your feline companions in the comfort of your home with a Meowtel sitter. However, we know that that isn't always an option. If you are traveling to San Diego and bring your furry friend along, there are plenty of feline-friendly hotels, lodging, and accommodations. Some of these hotels include The Kimpton Hotel Palomar San Diego, the Homewood Suites by Hilton San Diego Mission Valley, the Loews Coronado Bay Resort, the Hilton San Diego Del Mar, the Paradise Point Resort and Spa, the Hilton La Jolla Torrey Pines, and the La Quinta Inn and Suites by Wyndham San Diego. (Please note that hotel pet policies are subject to change, and this is not an extensive list of cat-friendly options in San Diego).
Whether you're a San Diego resident or just passing through, there are plenty of ways to get involved with the cat community. San Diego is a wonderful city to visit if you want to explore the beautiful beaches and oceans. If you are a cat enthusiast traveling without a furry friend, there are plenty of shelters you can visit and volunteer at or cat cafés to spend some time unwinding with a cup of coffee and some feline friends.
And of course - if you're looking for a trusted and insured in-home cat sitter in sunny San Diego, Meowtel has you covered!
Our Purrfect Hospitality Promise :
100%

satisfaction guarantee on your first Meowtel reservation
Frequently Asked Questions
The average daily price for a cat sitter in San Diego, CA as of October 2023 is $37.00
At Meowtel, we specialize in in-home cat sitting, because kitties hate leaving the comforts of home! Our trusted cat sitters offer 20 minute, 45 minute, 60 minute drop-in visits as well as overnight stays in your home. You may choose flexible visitation schedules such as daily or alternating days.
To start your search for the perfect cat sitter on Meowtel, simply input your zip code and the dates when you need your sitter to visit your cats. The search results will show all of the thoroughly vetted and insured cat sitters who are available to assist. Select the sitter that looks best to you and then book and pay via Meowtel. Every reservation comes with a free Meet & Greet so you can meet your cat sitter before you leave.
Each Meowtel cat sitting visit will include the whole 9 yards: feeding, refreshing the water bowls, litter box scooping, tidying up, medications, updates with photos, lots of playtime, as well as any special requests you may have. We know every kitty is different and that's why we offer tailored, in-home services since cats don't do well outside their own homes. Plus, every reservation comes with a free Meet & Greet so you can meet your sitter before you leave to ensure it will be a purrfect fit.