Our Most Popular Cat Sitters in Los Angeles, CA
Meet your cat sitter before you leave! Every reservation comes with a complimentary Meet & Greet and each Meowtel cat sitter has passed a background check through our trusted partner, Checkr.
Prices start at
$20

for

20

minutes of in-home cat sitting that is backed by the Meowtel Promise, which includes insurance coverage and speedy support.
Find and reserve your 5-Star cat sitter
Experience the magic of our in-home hospitality. Our cat sitters bring the purrfect hospitality to you.
1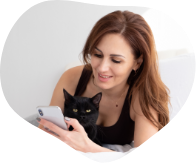 SEARCH AND RESERVE
Search for your cat sitter and reserve drop-in visits or overnight stays.
2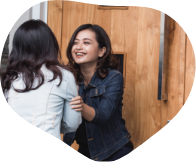 MEET & GREET
The cat sitter will meet
you & the kitties to ensure it's the purrfect match.
3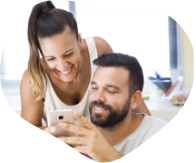 RELAX
You'll receive regular updates, including lots of photos.
Meet the Cat Community in Los Angeles, CA
Los Angeles (LA) is most famously known for its beautiful beaches and thriving entertainment industry. Whether you're looking to catch a big break in the film industry or just trying to get a glimpse of a dolled-up celebrity, LA is the place to be. Los Angeles is the most populated city in California and draws in a constant stream of visitors with attractions such as the Hollywood Walk of Fame, high-end shopping on Rodeo Drive, and schools such as the University of California, Los Angeles (UCLA).
With a human population just shy of four million, you're sure to find a scene of cat enthusiasts! Let's take a look at how you can get involved in the cat community of LA.
Los Angeles has faced serious stray cat issues in recent years. While the exact number is hard to calculate, it is estimated that there are anywhere from one to three million feral cats in Los Angeles County. The city has implemented various measures to combat this problem. Most notably, the Best Friends Animal Society's No-Kill LA initiative is dedicated to ending animal euthanasia in shelters and unites cat rescues, organizations, and individuals all over the city.
Whether you're looking to adopt, foster, donate, or volunteer, you'll be happy to know that many rescue shelters are spread across the city.
The ASPCA is present in the Los Angeles area with plenty of adoptable cats looking for their forever homes. LA Animal Services is a non-profit, no-kill organization that operates six centers throughout Los Angeles (with a spay/neuter clinic on site): East Valley Center, Harbor Center, North Central Center, Chesterfield Square Center, West Los Angeles Center, and West Valley Center. Los Angeles County Animal Care has locations throughout the greater LA area, aiming to provide compassionate care to better the LA community for humans and animals alike. The Kitty Bungalow Charm School for Wayward Cats operates Trap-Neuter-Return (TNR) services and Working Cat programs, and they have opportunities to volunteer, foster, or adopt.
Many local rescues organize cat-related events throughout the year, such as Kitten Rescue's LA Marathon fundraiser; what a great way to get your cat fix while supporting your local cat rescue centers!
If you're looking to start your day with some caffeine and kitties, LA has plenty of cat cafés to check out! CatCafe Lounge is LA's only non-profit cat café. CatCafe Lounge actively participates in helping to reduce cat euthanizations in LA. The café is typically home to 20-30 resident cats, all available for adoption. They even have a special kitten lounge during kitten season each spring and summer!
You can also head over to Crumbs & Whiskers on Melrose for a fresh beverage and play session with their adoptable cats. If you're lucky, you might even get a glimpse of your favorite Hollywood stars, as this is a celebrity-adored spot. Crumbs & Whiskers partners with rescues to help homeless cats and cats in high-kill shelters. They aim to reduce euthanasia and provide better lives for homeless cats, and they actively donate to cat-centric charities.
If you're near Long Beach, visit Feline Good Social Club and hang out with their 25+ adoptable cats. Though they don't sell coffee, they do host events such as improv, live music, poetry nights, and comedy shows.
Another must-visit place for cat lovers is the Iliad Bookshop in North Hollywood. This cute bookstore is home to cat-duo Zeus and Apollo, who like to interact with the visitors and lounge around the space. The bookshop has been a temporary home to other local stray cats as needed.
Looking to experience the outdoors? LA's wildlife is remarkable. The city is home to big cats, such as cougars and pumas, that live near residents. In 2012, a mountain lion called P22 became an urban legend when spotted in Griffin Park. Though he recently passed, scientists continue to track his movements through GPS for nearly 10 years. He certainly left a legacy!
LA is also known for its feline celebrity Orangey - the cat from Breakfast at Tiffany's. Though the movie was set in New York, this cat actor starred in multiple Hollywood movies. Today, his resting place is in Forest Lawn Memorial Park, Hollywood Hills.
Planning a trip to Hollywood? We recommend that you leave your feline companions at home with a Meowtel sitter. However, in situations where leaving your cat at home isn't possible, you and your kitty have plenty of accommodations options in Los Angeles! There is certainly no shortage of cat-friendly hotels and rentals in LA. Some of the premier pet-friendly hotels in LA include the Kimpton Hotel Palomar Beverly Hills, The LINE Los Angeles, the Kimpton Everly Hotel, W Los Angeles - West Hollywood, Omni Los Angeles Hotel at California Plaza, Conrad Los Angeles, and La Quinta Inn & Suites by Wyndham LAX. (Please note that hotel pet policies are subject to change, and this is not an extensive list of cat-friendly options in LA).
Overall, Los Angeles has a great community of cat owners and lovers who have united around local cat-rescue initiatives and frequent the city's cat cafés. It is safe to say that LA loves and cares about its cats. If you're an LA resident looking for a reliable cat sitter, Meowtel has a vast network of in-home cat sitters to provide love and care to your feline friends.
Our Purrfect Hospitality Promise :
100%

satisfaction guarantee on your first Meowtel reservation
Frequently Asked Questions
The average daily price for a cat sitter in Los Angeles, CA as of October 2023 is $39.00
At Meowtel, we specialize in in-home cat sitting, because kitties hate leaving the comforts of home! Our trusted cat sitters offer 20 minute, 45 minute, 60 minute drop-in visits as well as overnight stays in your home. You may choose flexible visitation schedules such as daily or alternating days.
To start your search for the perfect cat sitter on Meowtel, simply input your zip code and the dates when you need your sitter to visit your cats. The search results will show all of the thoroughly vetted and insured cat sitters who are available to assist. Select the sitter that looks best to you and then book and pay via Meowtel. Every reservation comes with a free Meet & Greet so you can meet your cat sitter before you leave.
Each Meowtel cat sitting visit will include the whole 9 yards: feeding, refreshing the water bowls, litter box scooping, tidying up, medications, updates with photos, lots of playtime, as well as any special requests you may have. We know every kitty is different and that's why we offer tailored, in-home services since cats don't do well outside their own homes. Plus, every reservation comes with a free Meet & Greet so you can meet your sitter before you leave to ensure it will be a purrfect fit.