Our Most Popular Cat Sitters in
Meet your cat sitter before you leave! Every reservation comes with a complimentary Meet & Greet
Every Meowtel reservation comes with
Premium Insurance

to ensure total peace of mind
Find and reserve your 5-Star cat sitter
Experience the magic of our in-home hospitality. Our cat sitters bring the purrfect hospitality to you.
1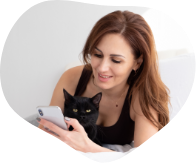 SEARCH AND RESERVE
Search for your cat sitter and reserve drop-in visits or overnight stays.
2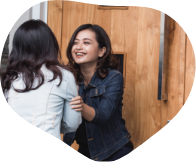 MEET & GREET
The cat sitter will meet
you & the kitties to ensure it's the purrfect match.
3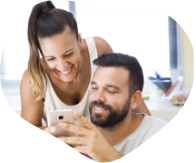 RELAX
You'll receive regular updates, including lots of photos.
Meet the Cat Community in
New York City (NYC) is undoubtedly one of the most diverse cities in the world. With a population of around 8.5 million people, NYC and its boroughs are home to nearly every type of cuisine and culture on the planet. You can essentially experience world travel just by making your way around Manhattan!
While it's notorious for its human diversity, New York City is also home to a large and diverse population of cats. NYC has millions of animals in need of good homes, including many cats. Thankfully, the city is flush with rescues, shelters, and foster groups dedicated to keeping these kitties safe.
So what are the best things for cat lovers to do in New York City? Where are the best attractions, shelters, rescues, and cat cafes? We'll explore that here with a cat-friendly navigation guide to New York City and Brooklyn.
Whether you're looking to volunteer at a local shelter, foster, or adopt a new kitty to call your own, we've got you covered. The Mayor's Alliance for NYC's Animals is a helpful directory that can help you find a rescue or shelter and is broken down by borough; the site even links you to all their websites, Petfinder profiles, and social media platforms! Below are a few to help you get started in your search.
Anjellicle Cats Rescue (ACR) is a Manhattan-based non-profit and no-kill rescue where you can adopt a kitty into your family or foster one until they find a home. Brooklyn Animal Action is a volunteer program that helps rehome surrendered animals. This group has helped rehome over 4,000 animals since being founded. Brooklyn is also home to The Humane Society of New York. This well-known organization helps with veterinary services, spaying and neutering for domestic and feral cats, microchipping, adoption, and emergency vet services. The Urban Cat League was founded in 2002 to protect the city's lost and homeless cats by providing services such as winter cat shelters, spay and neuter services, and foster and rehoming services.
On the people side of things, PAWS NY offers services to help vulnerable New Yorkers care for their pets at no cost. They focus particularly on helping low-income elderly individuals and people living with illnesses and disabilities. PAWS NY offers volunteer opportunities if you're looking for a unique way to get involved in the cat community.
Looking to relax with a cup of coffee? Good news! In true New York fashion, the city is home to many cat cafés, making it an ideal destination for cat enthusiasts from all over the world.
The Meow Parlour is located on Hester Street in Manhattan and is claimed to be New York City's first cat cafe. It has a relaxing and comforting atmosphere where you can rent out by-the-hour to hang out with adoptable kitties. Walk-ins are available, but reservations are recommended. With coffee, tea, and pastry offerings, you can satisfy your sweet tooth while spending time with cats in a relaxing setting and potentially even take one home to be a part of your family. The Meow Parlour also offers events such as cat yoga!
A new cat cafe in the Lower East Side of Manhattan, Koneko ('kitten' in Japanese), is a Japanese-inspired café where you can simultaneously enjoy chic and exotic artwork while reserving time to spend time with cats and kittens available for adoption. Inside or outside, you can play with cats in their Upper Cattery, Lower Cattery, or Catio. The café serves high quality treats such as Stumptown Coffee, In Pursuit of Tea, and house-made pastries. Beer, wine, sake, and Japanese snacks are also available. Koneko is a great place to spend happy hour with human and furry friends, and you can even book space for a private event.
The Brooklyn Cat Cafe is the only non-profit cat café in New York City. It is located in the heart of Brooklyn and run by the volunteer-led Brooklyn Bridge Animal Welfare Coalition. With a cozy atmosphere, the café strives to provide a welcoming place for people to come and visit cats while learning about adoption, care, and rescue. They even have a live kitten cam on their website where you can check on the kitties anytime!
If you're planning to take a vacation to visit NYC to explore the city and all of its cat-centric offerings, we recommend that you leave your feline companions at home with a Meowtel sitter. However, in situations where leaving your cat at home isn't possible, you and your kitty have plenty of accommodations options in the Big Apple! There is certainly no shortage of cat-friendly hotels and rentals in NYC. Some of the premier pet-friendly hotels in NYC include the Loews Regency Hotel New York, Kimpton Hotel Eventi, Freehand Hotel New York, Soho Grand Hotel, DoubleTree by Hilton Hotel New York Times Square West, Element New York Times Square West, Holiday Inn Express Manhattan Times Square South, The Muse New York, The Benjamin Royal Sonesta New York, and 1 Central Park. (Please note that hotel pet policies are subject to change, and this is not an extensive list of cat-friendly options in NYC).
New York City has no shortage of cat-appropriate places to eat, drink, and stay. It's a great place to visit for cat lovers who want to experience the nightlife and cultural diversity it offers but don't want to stay away from their furry family when they travel. If you're a resident of NYC looking to get out of town, Meowtel has you covered with a vast selection of cat-tastic in-home sitters to care for your feline friends.
Our Purrfect Hospitality Promise :
100%

satisfaction guarantee on your first Meowtel reservation
Frequently Asked Questions
The average daily price for a cat sitter in , NY as of March 2023 is $31.00
At Meowtel, we specialize in in-home cat sitting, because kitties hate leaving the comforts of home! Our local and insured cat sitters offer 20 minute, 45 minute, 60 minute drop-in visits as well as overnight stays in your home. You may choose flexible visitation schedules such as daily or alternating days.
To start your search for the perfect cat sitter on Meowtel, simply input your zip code and the dates when you need your sitter to visit your cats. The search results will show all of the thoroughly vetted and insured cat sitters who are available to assist. Select the sitter that looks best to you and then book and pay via Meowtel. Every reservation comes with a free Meet & Greet so you can meet your cat sitter before you leave.