Our Most Popular Cat Sitters in Denver, CO
Meet your cat sitter before you leave! Every reservation comes with a complimentary Meet & Greet and each Meowtel cat sitter has passed a background check through our trusted partner, Checkr.
Prices start at
$20

for

20

minutes of in-home cat sitting that is backed by the Meowtel Promise, which includes insurance coverage and speedy support.
Find and reserve your 5-Star cat sitter
Experience the magic of our in-home hospitality. Our cat sitters bring the purrfect hospitality to you.
1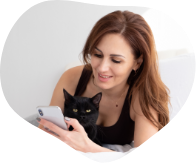 SEARCH AND RESERVE
Search for your cat sitter and reserve drop-in visits or overnight stays.
2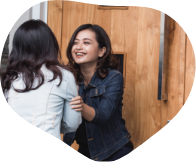 MEET & GREET
The cat sitter will meet
you & the kitties to ensure it's the purrfect match.
3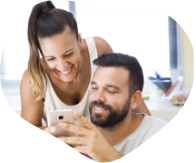 RELAX
You'll receive regular updates, including lots of photos.
Meet the Cat Community in Denver, CO
Denver, the "Mile High City," is well-known for its beautiful mountains, abundant breweries, and friendly people. The Denver International Airport (DIA) is the second largest airport in the world, drawing in a constant stream of visitors and transplants. Be sure to take a moment to research the story of Blucifer, the red-eyed horse statue outside of DIA.
With a reputation for endless outdoor activities and dog-friendly dining options, you may be wondering where cats fit into the Denver scene. Rest assured that there are plenty of cat lovers around town! Let's take a look at the best cat-centric places to visit during your tenure in Denver.
Looking for a caffeine fix and kitty cuddles in the same space? You'll be happy to know that Denver is home to two meowvelous cat cafés!
Denver Cat Company was established in 2014 and operates in tandem with their non-profit branch, Denver Cat Rescue. Denver Cat Rescue has a network of over 100 foster families who help the group rescue and rehome approximately 400 cats each year. Denver Cat Company houses some of the Rescue's kitties and provides them with a cage-free environment while they wait to be adopted into their furever homes. At any given time, the café has around 15-20 adoptable cats that you can visit. The café sells a limited assortment of food and beverages, and you can make a reservation in advance or try your luck at the door. Regulars can even sign up for a membership plan!
The newest addition to Denver's cat café scene is Teddy Cat Cafe. This café features adoptable cats as well as a mercantile for handmade goods. Teddy Cat Cafe hosts kitties from local shelters to help them find their new homes; their focus is on shy, older, under-socialized cats and those who have been waiting in a shelter the longest. The café environment allows these kitties to express their personality and socialize with other feline friends and human visitors. Appointments are recommended, but they do accept walk-ins when possible.
If you're wanting to get involved by volunteering, fostering, or adopting a local kitty, Denver is an excellent city for you. In addition to the aforementioned Denver Cat Rescue, here are a few of the local rescues and shelters.
Rocky Mountain Feline Rescue aims to reduce euthanasia rates and homeless cat populations. Their team of staff, volunteers, and foster homes provide adoptable kitties, community education programs, low-cost vaccines, medical care, and a rehoming program. Their free-roam shelter can house up to 125 cats at a time!
MaxFund focuses on nurturing and rehabilitating injured animals. They also help the local community by traveling in a mobile spay and neuter trailer to provide services to those without readily available pet care access, especially in rural areas. In addition to adoptions, MaxFund offers volunteer and foster opportunities.
Cat Care Society's mission is to provide care to homeless, abused, and injured cats without discrimination. They state that every cat deserves dignity, regardless of age, gender, color, etc. Cat Care Society is a cage-free facility with large play rooms and cozy nap areas. They house adoptable kitties as well as hospice care cats. Cat Care Shelter offers programs such as temporary cat care for those dealing with long hospital stays and foreclosures, free food and litter for cat owners experiencing temporary financial stress, and the "Nine Lives Legacy" program to take in kitties whose caregivers have passed away.
Gray Muzzle Society strives to keep pets with their owners and find permanent homes for homeless animals. They provide financial support for medical care, care for pets whose owners are temporarily unable to look after them, adoptable pets (with a focus on homeless elderly and special needs animals), and hospice care for animals in need of a safe space to live out their final days.
Denver is also home to Cat Fest. This event launched in 2022 and saw over 5,000 attendees at the first festival! With adoptable cats, photo opportunities, a costume contest, tarot readings, celebrity guest cats, and exhibitors from all over the country, there's something for everyone to enjoy. If you have a curious kitty who likes to join you out and about, you can even bring them with you.
If you're traveling to Denver to visit the mountains or attend an event like Cat Fest, we recommend that you leave your feline companions at home with a Meowtel sitter. However, in situations where leaving your cat at home isn't possible, you and your kitty have plenty of accommodations options in Denver! There is certainly no shortage of cat-friendly hotels and rentals in Denver. Some of the premier pet-friendly hotels in Denver include the Kimpton Hotel Born, Staybridge Suites Denver - Cherry Creek, Magnolia Hotel Denver, the Kimpton Hotel Monaco Denver, La Quinta Inn & Suites by Wyndham Denver Airport DIA, and Hotel Clio Denver Cherry Creek. (Please note that hotel pet policies are subject to change, and this is not an extensive list of cat-friendly options in Denver).
Denver is a beautiful city with a vibrant cat community. Whether you're a long-term resident or just passing through, it shouldn't be difficult to find a group of fellow cat lovers. If you're ever in need of a trusted and insured in-home sitter for your feline friends, Meowtel has you covered with a selection of cat-tastic sitters!
Our Purrfect Hospitality Promise :
100%

satisfaction guarantee on your first Meowtel reservation
Frequently Asked Questions
The average daily price for a cat sitter in Denver, CO as of October 2023 is $30.00
At Meowtel, we specialize in in-home cat sitting, because kitties hate leaving the comforts of home! Our trusted cat sitters offer 20 minute, 45 minute, 60 minute drop-in visits as well as overnight stays in your home. You may choose flexible visitation schedules such as daily or alternating days.
To start your search for the perfect cat sitter on Meowtel, simply input your zip code and the dates when you need your sitter to visit your cats. The search results will show all of the thoroughly vetted and insured cat sitters who are available to assist. Select the sitter that looks best to you and then book and pay via Meowtel. Every reservation comes with a free Meet & Greet so you can meet your cat sitter before you leave.
Each Meowtel cat sitting visit will include the whole 9 yards: feeding, refreshing the water bowls, litter box scooping, tidying up, medications, updates with photos, lots of playtime, as well as any special requests you may have. We know every kitty is different and that's why we offer tailored, in-home services since cats don't do well outside their own homes. Plus, every reservation comes with a free Meet & Greet so you can meet your sitter before you leave to ensure it will be a purrfect fit.