A Heartwarming "Tail" - Let's Be S.M.A.R.T. Greece Rescue
A Heartwarming "Tail" - Let's Be S.M.A.R.T. Greece Rescue
Cat Ownership
Posted Jan 09, 2023
Updated Jun 30, 2023
5 min read
Every morning, Julie Kelley goes for a walk to feed some stray cats and get her coffee. On one of her morning walks last month, baristas at her local cafe were eager to tell her about a sick kitten they saw outside. Julie found the kitty, named Noel, in critical condition with a terrible mouth infection. She immediately wrapped the kitten in a burlap sack provided by the coffee shop and made it her mission to show Noel the love and care that she deserves.
The baristas knew who to tell about the kitten because Julie has made a name for herself as an animal activist in her town in Greece. It all started in the late 90s when she spent time traveling back and forth between the US and Greece; she immediately noticed the prevalence of strays in Greece and found that many people did not treat the animals with respect. She knew that she wanted to eventually move to Greece full time, so she began brainstorming ways to educate the local communities and help improve the lives of stray cats.
She started an organization called Let's Be S.M.A.R.T., which stands for "Successfully Managing Animal Rights Today." The organization aims to "think globally, act locally." To Julie, the meaning of "think globally" is twofold. "One is to think globally about all of the issues that go along with stray animals, but it's also understanding that there are animal issues everywhere in the world" and recognizing that every country has their own unique problems when it comes to stray animals. "Hopefully one day, animals are treated just as well as humans, and the communities can be more involved in making sure they're safe and they're healthy," shared Julie.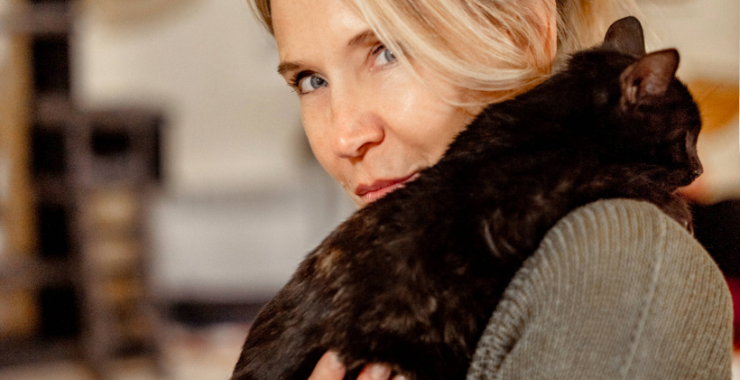 The first step in Julie's mission was to educate. "You have to think globally because just throwing food to a stray isn't going to solve the problem - even just sterilizing the stray isn't going to solve the problem. You have to have a global view of the entire problem and all of those are components, but you need education. You need the communities to be willing and want to help," she said.
Julie had previously spent some of her spare time studying alternative medicine, and she wrote a research paper on the many ways animals can benefit humans from a health perspective. She felt that her research could help people understand the benefits of animals in hopes that this knowledge would pique their interest and lead them to treat strays with kindness. She created brochures, in both Greek and English, to educate her local community on those benefits. She spread the word by speaking at a local university, hosting an animal-themed children's tennis tournament called "Tails for Tennis" with famous athletes, and handing out the brochures whenever possible.
She found that people were receptive, and she was encouraged to continue educating. Let's Be S.M.A.R.T. now has a series of seven educational videos that have been approved by the Greece Ministry of Education to be shown in public schools throughout the country. Julie also recently got approval from her Mayor to put up three SMART feeding stations in her municipality. In another municipality, she has already gotten 28 feeding stations in place. These stations are intended to provide a safe and comfortable environment for the cats to eat while also continuing the narrative that it is socially acceptable to interact with the stray animals.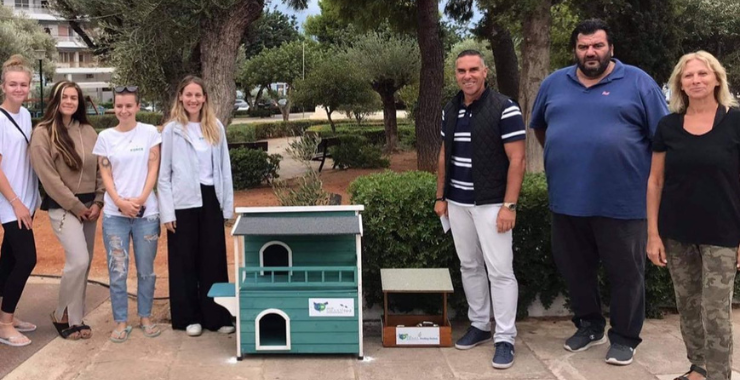 Though Julie and her team have had many successes and now run their rescue efforts from a large villa, that wasn't always the case. Julie's personal rescue efforts began when she observed a stray cat in her neighborhood become pregnant with her fifth litter of kittens. Julie wanted to give her a safe space to birth the kittens, so she rented an apartment for the cat to move into. The operation quickly escalated as Julie continued to find strays to bring inside (including three kittens that she found in the middle of a road), and she moved the operations into the current villa around five years ago.
"It takes our entire Let's Be S.M.A.R.T. team to tackle all these stray solutions and maintain the standards in a professional setting for the rescue cats" Julie told me. The team aims to help as many cats as possible by providing the medical care they need to heal and helping them find their perfect forever homes. She noted that the citizens of the local communities often don't have the financial means to provide the necessary medical care to the stray cats, so Let's Be S.M.A.R.T. relies on volunteers and donations. The organization has established a veterinary internship program where veterinary students can visit Greece to help cats at the shelter, spend time at local veterinary offices, and visit nearby animal sanctuaries. "2023 will be our third year, and we already have more than a dozen confirmed," Julie told me.
Let's Be S.M.A.R.T. also provides volunteer opportunities for travelers. You can learn more about the program HERE. Cats at the shelter are free to roam and express their personalities in an open setting, and volunteers often find that cats will cuddle up with them in their bedrooms at night. Julie believes that "getting to experience the stray issue over here gives [the volunteers] a different perspective on what the problems are and what solutions look like."
While Julie's vision can't be achieved overnight, she is pleased with the results she has seen thus far. She told me that "the most rewarding part is to see the animals thriving - both the outside strays that are healthy and running to see us every day and also all the ones we know have gone to good homes and probably wouldn't be alive if we didn't provide the medical care for them. Seeing their little faces - they're just so cute!" Additionally, she has seen a breakdown in the stigma of stray animals in her local community. "People see that the cats look healthy, and they see the improvements," she shared proudly.
Whether you travel to Greece to volunteer at the Let's Be S.M.A.R.T. villa or you just want to get involved from the comfort of your home, remember that there is always a way that you can help improve the lives of animals in your community. If you would like to learn more about ways you can help, I encourage you to take a look at the resources Julie has put together under the Education tab on the Let's Be S.M.A.R.T. webpage.
Photo by Julie Kelley