How Cat Sitting Changed My Life
How Cat Sitting Changed My Life
For Sitters
Posted Jan 13, 2020
Updated Jul 25, 2023
10 min read
This may seem insane to a lot of people, but cat sitting literally changed my life. I may even go as far as to say it saved my life.
I thought long and hard about writing this article, as it makes me incredibly vulnerable—something I hate to be. Loathe. Despise. Like, I hate it as much as I hate traffic in LA, which, if you know me in real life, you know is literally more than words can say. But here goes.
Feline friends
I've always had—and loved—cats. My best friend when I was a baby was my mom's Siamese, Mitzi. I really don't remember much about her, but last year my mom sent me photos of me as an itty baby and as a toddler cuddling with her. I had no idea that my bond with cats was so strong at such a teeny age.

Mitzi and me, with a sweet bowl cut
I was blessed with always having at least one cat around. After Mitzi passed away, for my fourth birthday, I was brought to the Humane Society to adopt a cat. I picked a female tuxedo (which may have been what started my obsession with tuxedos). Her name was Tessie. I was super into the TV show Alf; looking back on it, I don't understand why since Alf ate cats. Anyway, I really liked the character Lynn, so Tessie became Tessie Lynn. We had Tessie for about 15 years, and she passed away due to kidney failure in 2001.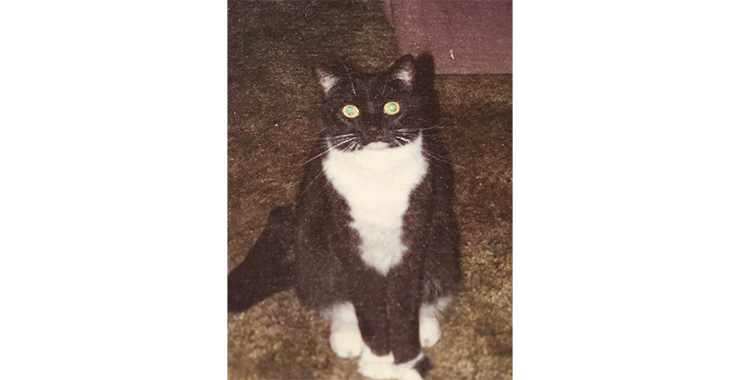 Tessie Lynn
A few months later, I convinced my mom to adopt a mom cat and her two babies. She only wanted to take in two of the three, and I told her like the boss that I was, "It's all or nothing, lady." I won. Mom cat was creatively named Mama (she had no personality other than 'nasty'), the little boy was named Bear (he was a bear cub that grew up to be a big, 20lb bear) and the little girl was named Tinkerbell.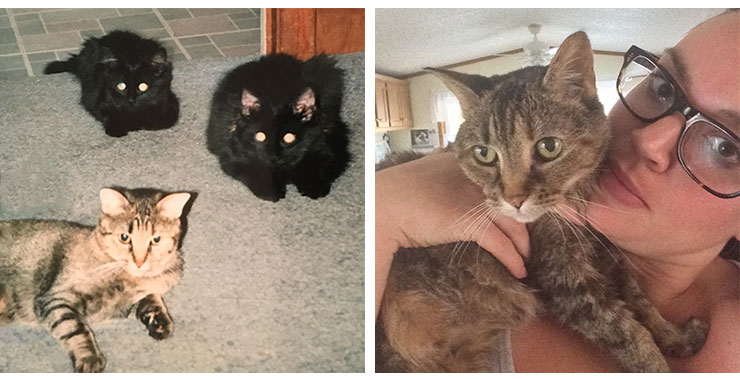 Left to right: Mama, Tinkerbell, Bear; Mama
After I graduated college, a beautiful tuxedo cat wandered onto our property. After several days, my stepdad was able to lure him into the garage and trap him. We tried finding his owner; we put up flyers, put ads in the local paper… nothing. So, he lived in our garage while the other three lived in the house. I would go sit out in the garage with him for hours and he would come, sit in my lap, and put his paw on my face. I knew at that point that this cat and I were bound for life. I decided to name him Maxwell Wellington because he had a bit of a swagger. He saunters rather than walks, and he sits on the outside corner of the litter box because his paws are too good to touch peasant litter. I personally believe that if he spoke English, he would have a British accent. And you bet your butt that he wears a necktie.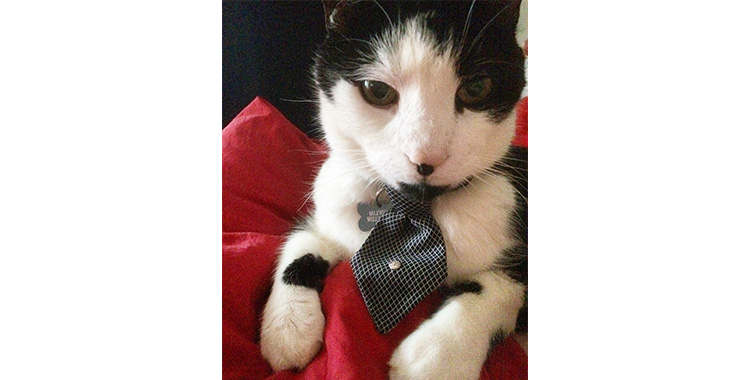 Maxwell Wellington
Changing paths
So that's all the backstory on my life with cats. Let's move forward. For over ten years, I worked in the entertainment industry and for over ten years, I was miserable. However, it was all that I knew. I always wanted to work with animals, specifically cats.
I battle depression and anxiety and have since I was a child—but cats made me happy. For a long time, I hated to admit that because there is this negative connotation that surrounds liking cats. If you like cats, you're a crazy cat lady. You probably smell weird, your home probably does too, and you'll be alone forever. As someone who lacked any sort of self-confidence and battled social anxiety, I didn't need to add any more reasons to self destruct.
When I was a child I wanted to be a vet, but to be totally honest I wasn't prepared to go to school for that long. Every time I got infuriated with a show I worked on, I would think about how I wanted to work with animals. I would research online programs to enroll in to become a vet tech. However, I always circled back to not doing it because a) money, b) I hate school, and c) I never wanted to assist in having to put animals down. Actually, that latter reason was probably the main one! After this recurring internal battle, I would always just go back to production and be miserable for the next 6-24 weeks, depending on the show.
Finally, in the summer of 2018, I had enough. I had just come off a show that made me lose faith in humanity and absolutely hate life. My stepdad just had a major stroke and ended up in a brain injury unit of a nursing home. A few weeks later, my dad passed out at my niece's and nephew's high school graduation. He was without oxygen for almost a minute and ended up having to have a quadruple bypass. I went back home to central New York for almost two months during all this.
Each day that passed I realized that production really just made me miserable, and I needed to do something that brought me joy. When I got back to LA, I had officially decided to stop looking for production jobs.
Cat sitting: A rocky start
One day, I googled "cat sitting jobs Los Angeles." Meowtel was the first (and only) cat-only site that popped up. A general pet sitting site popped up as well. I applied to both. I was in a relatively deep depression at this point and felt that whomever I happened to meet in life, for whatever reason, would judge me for being "just a pet sitter." But I needed extra money, I needed to pay rent, and I needed a reason not to backslide into production.
My first cat sitting job was for a beautiful floofy boy named Mambrú. When I met his dad, he was nervous because he had never had a stranger come take care of his boy before. I was nervous because a) I have social anxiety and meeting new people sends me into a tailspin, b) I had no idea who he was, and c) this was my very first Meet & Greet. The last time Mambrú was boarded, he had come down with bronchitis, so his dad looked into in-home care.
Things actually turned out wonderfully; Mambrú and I clicked immediately. His dad felt at ease with me watching his boy for an extended period of time. It seemed like things were finally looking up.
We spent weeks bonding. He would meet me at the door, meowing in greeting. However, one day I walked in and he was nowhere to be found. I panicked, looking everywhere: in the bathtub, under the couch, behind the curtain, under the desk… Nope. I finally looked under the table and there he was, curled up on a chair and looking completely terrified. I picked him up and just held him. I told him he scared me. As I was holding him, I noticed his breathing was fast but shallow. I called his dad; he didn't answer. I texted him and asked him to call me back immediately. When we finally connected, I told him what was going on, and we decided I should take him to the vet. I was able to get him in within a few hours.
Just by looking at him and knowing his past, the vet assumed it was a bronchitis flareup, as did I. She wanted to rule out any heart issues though and decided to do an x-ray. Things were taking longer than they should, and I started getting nervous that something was really wrong. She came out and told me that he had congestive heart failure as well as pneumonia and that he needed to be taken to the 24 emergency room for overnight observation. My heart sank. I asked her if I had missed something; I asked if I had done anything wrong. She assured me I hadn't, and that had I ignored it, I would have likely walked into a very different situation the next day.
I rushed the little floof nugget to the ER and stayed with him until he was admitted. During the course of the night, he had an echocardiogram and had to be put on oxygen. He had a bunch of tests run on him as well. When I took him home, he had three medications he had to take; a diuretic that pulls the fluid away from his heart, an antibiotic, and another heart medication. He would likely be on one or two of those medications for the rest of his life.
I updated Meowtel on what had happened and was assured that I handled it the best way I possibly could have. My main point of contact at Meowtel, Sonya, was thankful I reacted the way I did. Mambrú's mom and dad were so thankful as well. Every minute of those 24 hours I had worried that I had done something wrong; that I had missed something and yet, four people had assured me that I hadn't. I was told I saved his life. Me—a crazy, weird smelling, weird looking, anxiety-riddled cat lover—saved this boy's life.
A new confidence
Once that all sank in, I knew I was doing what I was meant to do. It was the right choice to leave production, and I finally realized how I could help animals without being a vet or a vet tech. I wasn't just a pet sitter; I was a lifesaver. Being a lifesaver gave me the confidence that I needed, a confidence which came with me into every Meet & Greet. I didn't care what people thought of my looks, my intelligence, my clothing or my hair; I only cared if they understood that I knew cats.
Each Meet & Greet got easier as I felt my anxiety about meeting new people slip away. Why? Because I was confident. In my skills, my intelligence, my vigilance, my surroundings, and my love for felines. I knew what I was talking about.
All of this newfound confidence pushed me to reach out to Sonya and ask her when she was looking to expand her team, to consider me. Old Melanie would have never done this. Old Melanie would have thought that this woman would have judged me for even thinking I was good enough, smart enough, brave enough to reach out. The new Melanie was confident.
Sonya obliged and asked me to meet her while she was in town on business. Excited but terrified, I had to pull over on my drive over there because I was so nauseous. I sat in a parking lot for 15 minutes doing yoga-style deep breathing hoping I wasn't going to throw up all over my cat scarf and romper. Thankfully, I made it through without any vomit.
I approached the meeting as just a chance to put a face with the name, which meant I was unapologetically myself: honest, potty-mouthed, snarky; all things that I've always been penalized for in my past positions. And yet, being unapologetically me worked this time. Sonya and I clicked, and she told me she wanted me to join the team. Could this be happening? Could I finally have figured out how to work with animals? YES!!
While Mambrú and his family recently moved back to Puerto Rico, he will always be my OG. His dad and I keep in touch, and he sends me adorable photos of him enjoying his new life. It's so amazing to know he's healthy enough to fly numerous times to and from Puerto Rico.
I have had multiple cats with kidney failure that require subcutaneous fluids, a cat with megacolon who requires two meds — twice a day, a blind cat, a dog in a wheelchair, a dog with major separation anxiety, as well as my cat who has IBD (inflammatory bowel disease), hyperthyroidism, chronic pancreatitis, and hip dysplasia. But I know I can care for all of these babies. I'm smart and I'm empathetic. And now, I'm confident.
Pride and happiness
I still battle depression and anxiety, but since becoming a pet sitter and then starting with Meowtel as their Creative & Opurrations Manager, I am happy to say they have both gotten better. I'm able to be around cats all the time, I'm able to work with a boss who understands and appreciates me, I'm able to help shape a startup into the amazing vision Sonya sees—all while helping cats (and cat parents) live their best life.
Pride in my work has returned; I'm proud to care for cats and proud to work at Meowtel. And I know it sounds absolutely ludicrous, but it's all because I started cat sitting. So many people have told me that if what happened to Mambrú happened on their watch, they would have quit immediately. For me, it only solidified that I was doing the right thing, that I was doing what I have always meant to be doing.
And finally, at this moment, I am happy.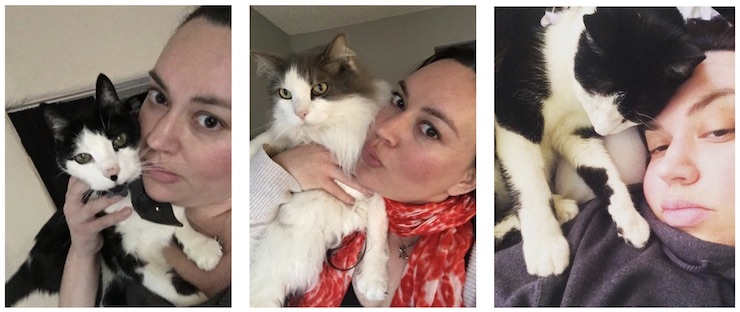 Left to right: Maxwell Wellington; Mambrú; Maxwell Wellington
There are many other Meowtel sitters just like me who are passionate about cats and will do everything in their power to make sure your kitty is loved and taken care of while you're away. Check out what makes Meowtel different and why our sitters are the sup-purr-ior option for your kitty cats.
Photo by Melanie Deisz