Top-Rated Cat Apps and Websites for a Pawsitively Good Time!
Top-Rated Cat Apps and Websites for a Pawsitively Good Time!
Cat Ownership
Posted Dec 16, 2019
Updated Jul 25, 2023
5 min read
Since we're basically living in the future where everything can be done on a phone or a tablet, it's no surprise that there are a multitude of cat apps and videos available for Fluffy and Peanut. In this article, I'm going to show you the favorites of our Meowtel HQ team.
Websites and Videos
Bird Bonanza
Bird Bonanza is the most popular among team Meowtel, but it's not just us that loves this YouTube video. It has over 6 million views, and it's not just from us watching it on repeat, we swear! This video is a hit for a few reasons – it has 8 hours of footage, and it allows Peanut and Fluffy to get some mental (and maybe physical) playtime in. The video itself shows birds frolicking with accompanying nature sounds. Beware though! I once had a kitten client who would pounce on the TV and try to climb up the wires because she was convinced she could get the birds. If your cat acts similarly and gets too worked up watching birds, try the next one.
Relax My Cat
The Relax My Cat channel is my purrsonal favorite, and I use it quite often. I specialize in senior, sick, and special needs cats so they normally aren't super interested in watching birds or squirrels on TV. A great feature on the Relax My Cat YouTube channel is the different playlists so you can feel free to switch it up. My absolute favorite video from them is the live feed, but it isn't always available. If it's not, my backup is the Extra Long Cat Relaxation Music! 🐈 video which clocks in at 16 hours and 26 minutes. The visual component of these are simple cat photo slideshows accompanied by relaxing, spa-like music.
Meowtel (updated to add 7/25/2023)
On the Meowtel YouTube channel, you can find cat-related videos ranging from fun Shorts and DIY videos to long-form lo-fi music videos featuring our mascot, Timothy. Check it out, and subscribe if you'd like to stay in the know when we post new content.
Apps
Friskies Cat Fishing
Purina (parent company of Friskies) created a brilliant app: Cat Fishing. Available for phones and tablets, this interactive game allows Fluffy and Peanut to use their hunting skills. The fish swim around the screen tempting your cat to get them. If Peanut "gets" the fish by touching it, the fish will fall away into the dark waters. If Peanut misses, the water will create a tiny ripple, and the fish will continue swimming until the round ends. There are 3 rounds which last 30 seconds each, and to add to the fun, more fish are added each round. The concept is like the arcade game Whack-a-Mole. It is available in the Apple Store and on Google Play.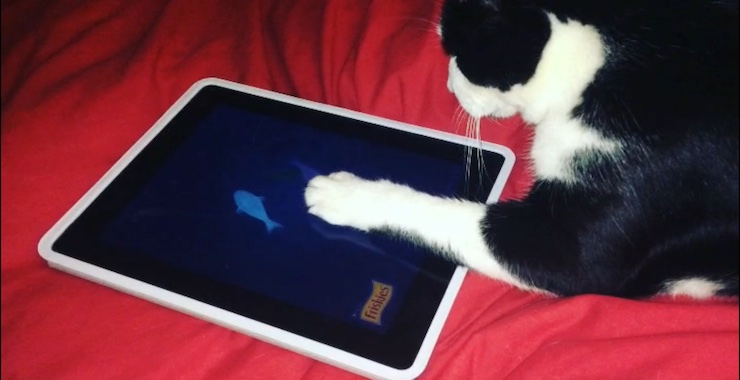 Maxwell Wellington playing with fishies
My Talking Pet
Have you ever wondered how to make a video of Fluffy singing? Well, this app lets you do just that. Just upload your favorite photo of your feline friend, and voila! Okay, so there's a little more to it than that, but not much! After you upload a photo of your cat, an outline lays on top of the photo showing you where to line up certain parts of your cat's face. (Pro Tip: Don't skip this step. It is important to create a better end result.) Once that's complete, record yourself saying something. You can change the pitch and speed of the voice. Get creative! As soon as you decide on the perfect saying and vocal quality, save and share. The app is available in the Apple Store and on Google Play.
Pet First Aid
This app is brought you by the American Red Cross. Suggested by a team member who is a certified vet tech, this app was quickly downloaded on my phone. It's incredibly helpful. They know that dogs and cats are different so right on the landing page, they allow you to toggle between the two. *Note: Dog is the default option so be sure to click "Cat" on the top right to get the correct information every time you change sections.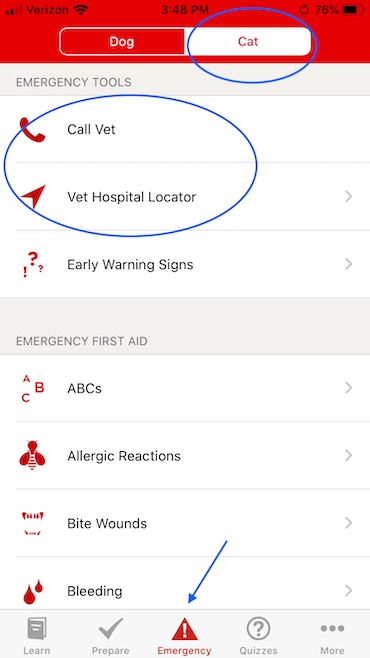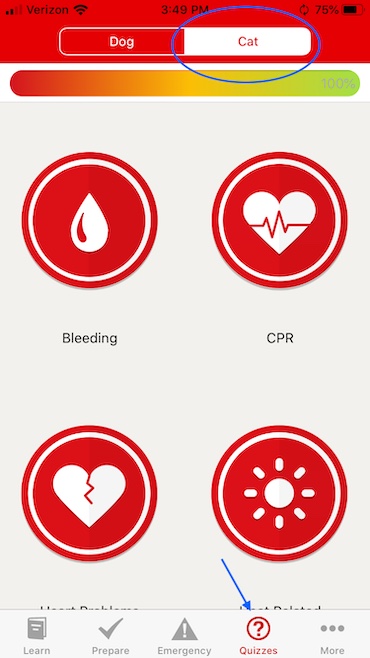 Emergency tabQuizzes tab (with earned badges)
It has super helpful information on topics like allergic reactions, blood sugar and heart emergencies, choking, CPR, seizures and more. It also has an option to input your vet's number in case of emergency. I know, you may be thinking, "Why would I need to put my number in an app if I have it in my phone?" You don't have to, but it doesn't hurt to have a backup. You never know how your brain will work if and when an emergency with your pet occurs. It also has a Vet Hospital Locator – be sure to enable location services if you want this feature to work. If you're looking to challenge yourself and learn some things, they offer quizzes. You bet your toosh I took them, and when you pass, you receive badges! Pet First Aid available in the Apple Store and on Google Play.
Meowtel is all about cats and their people. We love learning about the latest and greatest products and services our clientele love. If you or your cat have a favorite app or website we didn't mention, we'd love to hear about it! Send us an email at [email protected] or reach out to us @meowtel on Instagram, Facebook or Twitter.
Photo by Александар Цветановић via Pexels